Welcome to Twitter Hop Thursday, hosted by Simply Stacie, The King's Court IV, Little Yaya's and Review Retreat!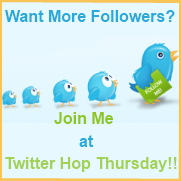 This idea is hosted by
Simply Stacie
,
The King's Court IV
,
Little Yaya's
and
Review Retreat
. What a cool idea! If your interested show it! Follow the few simple rules at the bottom of this post & your in, simple as that. I've found a lot of really good blogs from just looking & a lot of the blogger friendly spaces. Don't be afraid, get out there & start meeting new blogger buds.
code for blog to see.


Thirsty for followers?
Come get to know us and stay for a drink.
This blog hop is hosted by
Obviously MARvelous & For The Love Of 4
1. Follow your 2 hostesses: Obviously MArvelous and For The Love of 4
(We both follow back!)
2. Leave a comment below to let me know you're a new follower!
3. Link up your blog on the Linky Below
4. Copy and paste the Thirsty Thursday button in a blog post or on your sidebar
5. Click other links on the Linky and follow some new friends
~Obviously MARvelous
~
I'm Marcie (aka MAR) from Obviously MARvelous! My blog offers a look at my life as an outspoken, funny, tattooed wife and SAHM of 3 as well as some wonderful product reviews and giveaways! Please have a look around and enter a giveaway or two!
&
~For The Love Of 4~
I'm Claudia from For The Love Of 4. My blog is filled with funny
stories, loving moments and great reviews.
I am a mother to 4 wonderfully blessed sanity suckers and a wife to my hubs
of 8 years. Stop by take a look and say hello.
Welcome to Thursday Blog-Hop. The linky will open at 10PM EST. Please pass it along.
Also I'm on a computer this week that is very slow while I'm visiting my in-laws. If you asked me to check out your blog last week please post your link again and I will follow back. I got too overwhelmed with trying to login and sign up for blogs this past week, soooo sorry. Also be on the look out for a giveaway from Mabel Labels!!
THE RULES
1. Please follow the hosting blog- bassgiraffe's Thoughts and the STAR blog in spot #2.
2. Please visit as many blogs as possible.
3. If someone visits your blog please visit theirs back, but I know that we don't like all blogs we visit so don't feel obligated to follow back if you don't want.
4. Family friendly blogs only, please.
5. You will need to link to your blog post that has the above blog-hop button. Without a post it makes it harder for people to have a proper place to comment and let you know they stopped by.
—————————————-
Starting this week I am will be featuring one blog from the week before who made a post containing the blog hop button. This is a random draw from here on out. This week I just picked the first blog I can to that I saw my blog hop button was on. Next week's STAR spot will be chosen Friday Morning via random.org. If the blog chosen does not have a post containing the hop button I will redraw a name. I hope that made sense.
This week's STAR spot is "Two Children and a Migraine". Please follow her blog.

Welcome to Talkative Thursday's - Week 2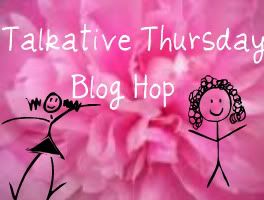 Talkative Thursday's is hosted by
Mommy of One
and
Lucas Journey with SPD
.

RULES:
Follow the blog in the #1 and #2 spot
Grab the Talkative Thursday's button, and make a post on your blog, with the button so new follower's know where to submit comments.
Submit your URL to the linky below, please have it go to your new blog post with the button.
Follow as many blog's as you want!!
You must follow both blogs in order to participate. If your a new follower, you can leave a comment on this post & on the other host's posting letting us know, and we will follow back.